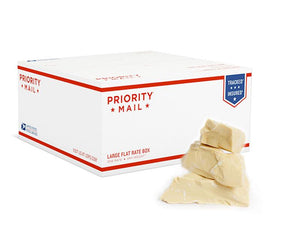 We love our planet earth as much as we love waxing! In an effort to shrink our footprint on mother nature, we are offering a "stripped down" format of The Honey Wax. No printed labeling, no individual package wrapping and just 15 lbs of naked premium Honey Wax. We even got rid of the shipping cost by including Free Shipping per box to US shipping addresses! Eco-friendly and Economical!
One unit box contains honey chunks, totaling 15 lbs of our yellow creamy honey hard wax. An all-natural, low-temperature, polymer-free wax with longer drying time, this wax is ideal for larger areas of the body such as legs, back and stomach.
HIGHLIGHTS:
This wonderful formula is malleable and elastic;
Highest bulb count in the market.

 

99%

 

of hair will come out with the bulb which will result in thinner and weaker hair in just a few waxing sessions;
Applies at a low temperature;
No strip formula;
Does not break or crack;
Sticks to the hair and not the skin, therefore less painful and more gentle then other waxes;
Can be used all over the body;
Suitable for all types of skin.